Hi, gang.
What is the current information regarding Alexander Conlin being in photographs with famed confidence man, Soapy Smith in 1898? Has there been any confirmation or consensus?
As you may recall the idea was originally brought forth by the late John Pomeroy, but as of yet his data has not been located so before my Soapy biography is published I would like to know. Has anyone really studied the photographs in question and come up with an opinion?
Sorry for the poor quality of the photographs below. These were the xerox copies sent to me by John Pomeroy over a decade ago. Better copies of the same photographs are further down. Thank you for your help.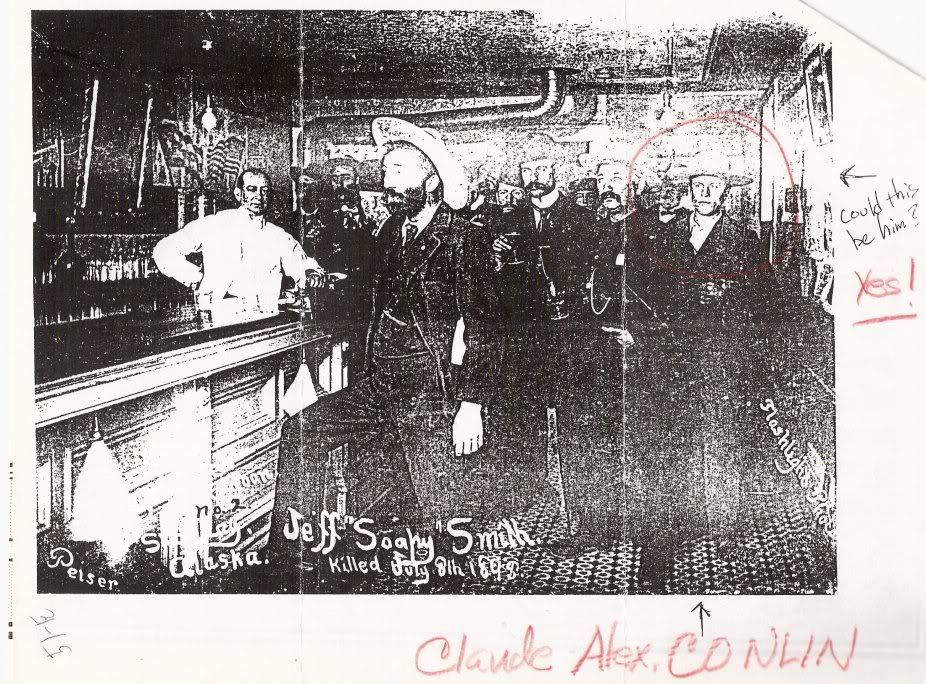 Here are the same photos (cropped) from my collection.
Here are better photographs from my collection. This will hopefully help your decision.
Two cropped photographs taken inside Jeff Smith's Parlor of the man John Pomeroy believed was Alexander Conlin...what do you think?
Photograph taken outside of Jeff Smith's Parlor. The man in the middle is the one John Pomeroy believed was Conlin. Your opinion?
Jeff Smith
Soapy Smith Preservation Trust
Soapy Smith Forum