John Carney's
VANISHING COINS
WATCH THE YOUTUBE TRAILER
https://www.youtube.com/watch?v=gxPK9drMRQo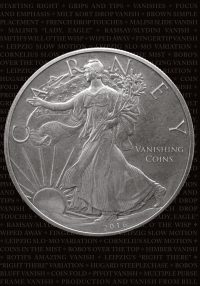 John Carney takes you beyond the French Drop, with a demonstration of some of the most off-beat and baffling methods to effect the vanish of a coin.
Carney is known for making his sleight of hand look effortless, and here he show's you how that is done, whether it's an advanced technique, or as simple as making a Thumb Palm more natural, or a French Drop more deceptive. These details are what separate the accomplished practitioner from the neophyte.
Each entry is a lesson unto itself, with the proper technique and approach to create a truly startling, deceptive illusion. These are lessons that apply to all your sleight-of-hand, teaching not just tricks and moves, but a proper understanding of universal principles.
Who better to teach you than John Carney?
Two ways of watching:
DVD
$35 postpaid
(+ $15 for Intl. Shipping • CA residents add 9%) tax)
or
Streaming off the Web with
REVIZZIT
ORDER HERE:
http://carneymagic.com/product/vanishing-coins/
Checks to:
CarneyMagic, 13134 Valleyheart Dr. #3
Studio City, CA 91604