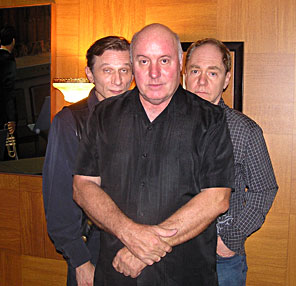 Mark Stock was a gentleman, an exceptional artist, a man who created happenings, a bon vivant, an amateur magician (in the highest sense of that word -- a "lover"), a dancer, an expert on Charlie Chaplin, a jazz percussionist, a master print maker, expert golfer, and the man who made me fall in love with magic.
I was under 10, Mark was a guest at a dinner party in my parents' home, he borrowed a dollar bill. With a soft touch he folded the bill, held it in front of him, and let go... It remained, floating in mid-air, just a few feet away from me...for several weeks that Summer I had trouble falling asleep, excitedly speculating about how something like that was possible...the family dinner table was now a sort of shrine...this was where it had happened
Mark did everything at the highest level...his career as a painter centered on his ability to tell compelling stories with a single image...simplicity at a master level -- and a virtue that would benefit a great deal of magic...See, for example, this part of his "The Butler's in Love" series; which was featured in several movies and served as the inspiration for a David Arquette film: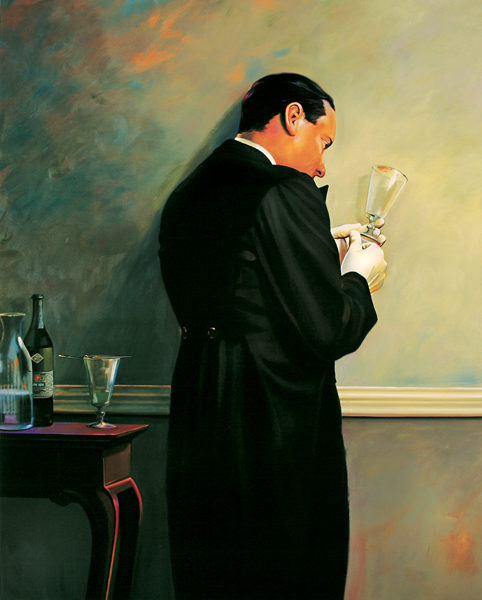 One image -- a butler gazing at a lipstick stain on a glass -- that points to much underneath and beyond it...
Mark was both a friend, and passionate fan, of Veronin's. Of interest to magicians may be his portraits of Veronin: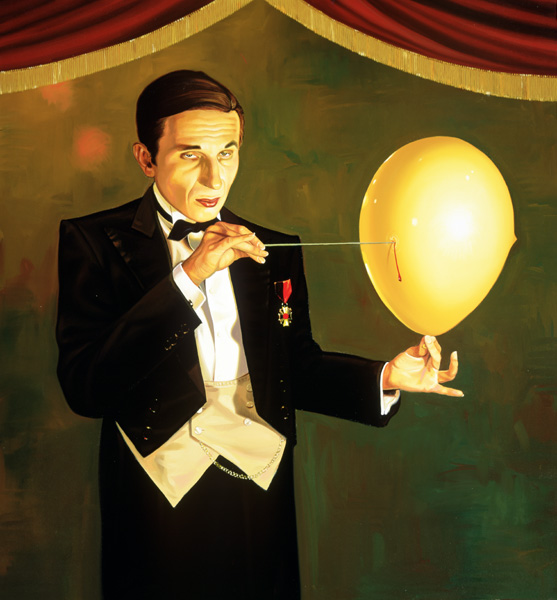 Mark's magic was likely part of a larger love of creating memorable, surprising experiences. Once he took a date on a long hike in the hills surrounding L.A. As they rounded the corner, they found a candlelit, white linen meal served by a butler waiting for them.
When Mark became fascinated by Charlie Chaplin, he found every living employee of Chaplin that he could. Rather than simply coming to them one-by-one for traditional interviews, he arranged a series of -- typical for Mark -- elegant dinners where the wine and the stories of the old boss could flow.
Mark's kindness was legendary (small, personal example -- when he found out that I had begun performing professionally I found a massive box in the mail filled with magic videos that he was gifting to me). It is in that combination -- kindness, obsession with excellence for its own sake, patient mastery of details -- that I think Mark shows the way both to being better performers, and to being better human beings.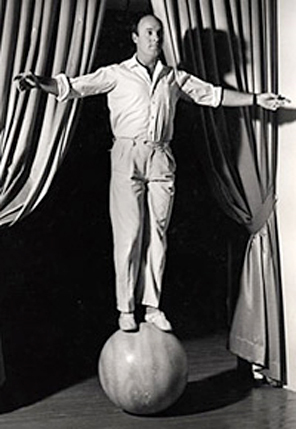 Excellence, even in casual performance, is part of Mark's example. Had Mark performed something mediocre -- I have no idea what I would be doing with my life today. He performed direct, simply plotted, ass-kicking magic that grabbed ahold of me and would not let go...it was not that I saw magic, it was that I saw excellent magic ...and I saw how it affected the adults around me
We lost an extraordinary, if less known, member of our community when Mark left us on Wednesday night at the age of 62 from complications of an enlarged heart.
For more on Mark:
http://www.sfgate.com/art/article/Mark-Stock-painter-known-for-butler-series-dies-5355637.php
http://www.theworldofmarkstock.com/bio.htm
Mark opened the door to a passion that became a career. I will be forever grateful for his example.