Daniel Garcia Lecture Tour
- September 2018 -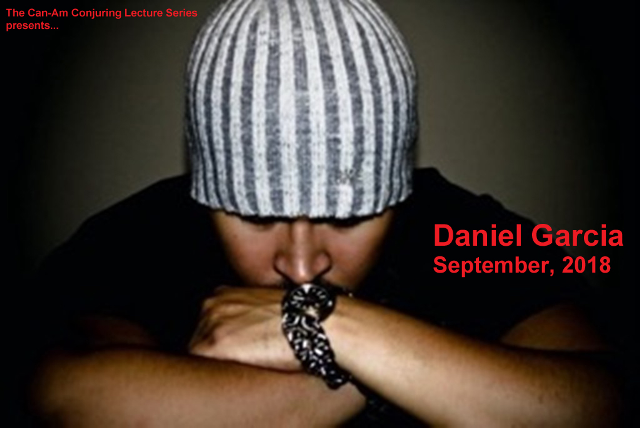 Daniel Garcia is a Texas based magician who is known for his creative approach to magic, as well as his off-the-wall, casual performance style.
He is not only one of the most influential creators in the industry, but he is also one of the most sought-after consultants for television magic. He has been David Blaine's head consultant for the past 6 years, and has also consulted and created magic for almost every major magician today, including Cyril, David Copperfield, and Dynamo.
In 2005, with the help of magic legend Paul Harris, Daniel started production on a 3 volume DVD set that would soon become an instant classic among the magic community. With its collection of highly visual effects, and unusual techniques, The Daniel Garcia Project became a must-have for a new generation of magicians as well as seasoned professionals.
Several years later, in collaboration with Paul Harris and the Buck Twins, Daniel released three additional volumes of the Project series, cementing his status as a creative force to be reckoned with.
For his new "Magician's Only" lecture, Daniel will share many of his favorite effects, as well as lots of NEW material that has not been previously released. The lecture will also feature handlings of his newest commercial creation, Mint Box. A diabolical, practical, semi-automatic switching device and one of the cleanest and most organic products ever created, Mint Box fits comfortably in your pocket - ready to perform at a moment's notice.
It is rare these days for Daniel to commit to a full lecture tour, opting instead for occasional convention appearances. We are honored to welcome him to the 2018 season of The Can-Am Conjuring Lecture Series.
...
September 8, 2018 - Seattle, WA
2:00 PM
Shawn O'Donnell's
122 128th St. SE
Everett, WA
...
September 9, 2018 - Eugene, OR
3:30 PM
Lane Community College
Building 19, Room 248
4000 E 30th Ave.
Eugene, OR 97405
...
September 10, 2018 - Calgary, Alberta
7:00 PM
Communitywise Resource Centre
223 12th Ave SW
...
September 11, 2018 - Winnipeg, Manitoba
7:00 PM
St. James Anglican Church
195 Collegiate St. Winnipeg MB, R3J 1T9
...
September 12, 2018 - Toronto, ON
7:00 PM
TBD
TBD
...
September 13, 2018 - Edmonton, AB
7:00 PM
Magic Emporium
8840 60 Avenue NW
Edmonton, AB
...
September 14, 2018 - Mission, BC
7:00 PM
7969 Tuckwell Terrace
Mission, BC
...
September 15, 2018 - Victoria, BC
7:00 PM
Attwood Magic Studios
2634 Alderglen Pl.
Victoria, BC V9C 3P5
...