So I have been cajoled into posting this before 2015 is over. Try not to do anything else interesting, and in the meantime, please to enjoy …
The Genii Forum's 2015 In Review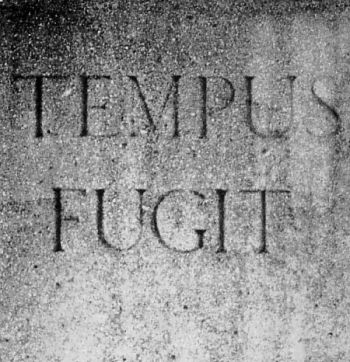 "Tempus Fugit" indeed. Didn't we all just gather for this exercise?
Even with the rapid passing of time, I cannot recall the last time Harry Houdini's name appeared on this forum. Oh, wait. It was the other day. Without a doubt, the escape artist would be tickled over the amount of press—magic and mainstream—he received in 2015. If he could communicate from the "other side," his message regarding his longevity would likely be, "Told you so." His name appears many times in the following collection. Sorry non-Houdini fans—and you know who you are—it just couldn't be helped.
Penn & Teller also enjoyed a big year. The highlight (for most of us I think) was their television program, "Penn & Teller: Fool Us." It featured some of the best magic on American television in many years.
But neither Houdini nor Penn & Teller were the only stories you all shared on the Genii Forum. Let's have a look back at 2015:
January
On the Cover of Genii: Walter Rolfo
"I Can't Define it, but I Know it When I See it."
— Justice Potter Stewart and his law clerk Alan Novak (paraphrased)
Mentalist Richard Osterlind is quoted in a "whatever happened to …" article that featured a "porn" actress as well as Charles Lamont, "the X-Rated Hypnotist" (it is in this segment where Osterlind's comments can be found):
http://www.therialtoreport.com/2014/05/ ... i-darlene/
They Make a Pill for That Now
Richard Kaufman called Hans Klok's "world record" performance of 15 "grand illusions" in five minutes "magical diarrhea." Forum Member "brianarudolph" summed it up best with this little ditty:
I once saw a magician named Klok
Do every illusion on the block
In just under five minutes via
So much magical diarrhea
I thought he should go see his doc
My own official count by effect:
Production of a person (including of himself): 8*
Vanish of a person: 3**
Metamorphosis/Transposition: 3
Levitation: 1 (but actually, this was being performed by his assistant … I say an asterisk on that "record")
Vanish of costume/costume change: 2
But wait, that's 17! Yes, the last two were after the five minute mark.
*The assistant's reproduction after the Fire Spiker is counted.
**The assistant dropping into the Fire Spiker box (under cover of a cloth) was counted as an "illusion."
We know you really want to see it, so …
So Long Harry
The
New York Times
reports that Hugh Jackman has "bowed out" of the long anticipated, but much beleaguered, Houdini musical on Broadway.
This Ought to Brighten Your Day
A truly wonderful short film directed by Kyle Scott and Michael Kaye, produced by Dan and Dave Buck, and starring Rob Zabrecky. Please to enjoy …
Going Mega in Macau
Franz Harary is well-known for his "mega illusions" and is a mega star in Asia and the Subcontinent, but his new venture, "House of Magic" in the $3 billion resort Studio City in Macau, adds a whole new definition to the label.
http://themeparkuniversity.com/outside- ... lebrities/
"I don't mind dying, I just want to live until I die."
— Arnold Palmer
His heart failing, diabetes preventing a transplant, Amazing Johnathan tells the world his time on the planet is limited. But that, or his so-called "retirement," doesn't slow him down much, taking in all he can in whatever time he has left.
Bet You Forgot (until I remind you)
Remember when Neil Patrick Harris exposed the Thin Sawing on "American Horror Story"?
Yeah, me neither.
Penn & Teller Kick off Awards Season
On the "World Dog Awards," Penn & Teller perform a wonderful Cups & Meatballs routine with Oswald, that looked like a breed of mastiff (read: very large) for which Penn provided his voiceover. The meatballs disappeared from Teller's hands and reappeared under the cups. And then they—the meatballs—would disappear down Oswald's throat.
100 Million Here, 100 Million There, Pretty Soon We're Talkin' About Big Money …
David Copperfield lands on
Forbes
list of 400 "Ones to Watch" as his fortune nears the one billion dollar threshold.
Which Accomplishment Was Harder to Achieve?
On the same day Will Houstoun receives his PhD from the University of Essex, he wins the Magic Circle's Close-Up Magician of the Year for 2015.
If They Say So
The Metropolitan Museum of Art says that this is the oldest deck of 52 playing cards (ca. 1470 – 80). They list the culture that created them as "South Netherlandish." Hand illuminated, with gold and silver applied, the suits consist of Hunting Horns, Dog Collars, Hound Tethers, and Game Nooses. It is claim by the museum that the cards are "hunt" themed. Sure. If they say so.
February
On the Cover of Genii: Joshua Jay
Define "Retirement"
86 year-old James Randi announces his retirement from JREF, the foundation he founded, so he can continue writing, making appearances, and a whole bunch of other stuff.
Define "Significant"
Three Million dollars-worth of magic posters, books, and documents—including unique Houdini artifacts—is donated to the McCord Museum in Montreal, Québec, Canada. David Ben is working closely with the institution. Speculation as to whose collection it was runs wild.
Magic, Technology, and Penn & Teller
Penn & Teller appear in
USA Today
discussing the effects of technology and performance magic.
http://www.usatoday.com/story/tech/2015 ... /22829519/
"Plaid is a Lifetime Commitment." —Mac King
Howdy! 20 Minutes with Mac King (okay, only 19 minutes, 32 seconds, but it's still terrific):
A Lifetime of Collecting Reduced to Dollars and Cents
I love magic auctions, except when they are of the collection of a dear friend who passed away too soon. The Potter & Potter auction of the JP Jackson Collection garners a total hammer price of $244,340. [Sigh.]
Also Too Soon, and Too Small
The community of magic loses Dean Dill earlier in the month. One last gathering is planned at his hair salon, where local magicians would hang out on a regular basis. The plans are adjusted because so many people plan to attend that the shop cannot accommodate them all.
Because He's Good At It
It is announced that Max Maven has been cajoled into producing the 2015 Academy of Magical Arts Awards Show for a second time. The show is scheduled for May 17 at the Saban Theatre in Beverly Hills.
Delayed to 2035 … Wait, What?
Preorders for the long awaited Ricky Jay book on Matthew Buchinger are cancelled by Amazon. Indigo lists the book as being published in 2035. Except that the publisher, WW Norton, has cancelled publication, no other news is forthcoming.
Paddin' that Resume
An article in the Los Angeles Times on Neil Patrick Harris and the coming Oscars broadcast lists Derek DelGaudio as a writer for the television program.
At 100 She's Still Got It
On his website, Tim Ellis relates the story of 100 year-old Moi-Yo Miller—Dante's principal assistant (costar really) throughout his career—jumping up from the audience to assist magician Dean Certificate with a routine.
Lifting the Veil on Edwin T. Sachs
Tom Sawyer, the skilled underground researcher and author, announces on his Erdnase blog that he will be releasing a limited edition book on Edwin T. Sachs, the author of
Sleight of Hand.
(The line starts behind me.)
Not So Grim News for "The Grim Game"
Before Larry Weeks' passing, arrangements had been made for his print of Houdini's film "The Grim Game" (1919)—once believed lost—to be restored and once again played for the public. Sadly, Weeks passed, but the film's second debut is scheduled for the TCM Film Festival in March in—where else?—Hollywood.
Mouth Coils Should Appear From the Mouth
A thread on "Nudity in Magic" includes a link to video of the 70-something year-old stripper "Sticky Vicky" producing a mouth coil from a place no mouth coil should ever be.
A Zany Documentary
A short (30-minute) documentary is published on YouTube about Walter "Zany" Blaney's confounding suspension illusion:
https://www.youtube.com/watch?v=U6u0mI8s0tk
Neil Patrick Harris's Oscars Magic Gets Mixed Reviews …
…from magicians. Most mainstream reviewers blasted NPH for the "Confabulation" style prediction effect he performed at the end of the Oscars television program.
Malpractice Makes Malperfect
Swimsuit model Chrissy Teigen butchers an "easy" trick while Jimmy Kimmel disses The Magic Castle's dress code. Oh the humanity … but here I am, sharing it … again:
It's Not Magic But …
The death of Leonard Nimoy touches the inner geek of many, particularly those who remember his portrayal of a magician on the television program "Mission Impossible."
March
On the Cover of Genii: Woody Allen
The Cups and Balls a la Count Arthur StrongYou Too Can Matriculate at the Stockholm University of the Arts
Johan Ståhl and Tom Stone will teach a summer course of advanced magic at SUA. The primary focus is on misdirection, "dramatic structures," and will "draw heavily on the participants' own experiences. The study model is very hands-on with focus on research and practical experiments."
Yes, David Can Read Book
David Blaine makes an appearance at the New York Public Library. As a boy, he was exposed to magic via the public library system. (Remember those?)
Sneak Peek
The first look at the schedule for the upcoming Genii Convention is posted. (More is yet to come.)
And Somethin's Gotta Give …
In a year with a FISM, IBM and SAM International Conventions, MAGIC Live, and the Genii Convention, the organizers of the MacMillan's International Magic Convention (better known by regulars as "Ron's Day") in London announce they will not be holding the event in 2015.
Splish-Splash I was Takin' a Bath
… or
The Super's Gonna be Pissed!
… or
"A pool on the 30th floor: Do you know how

deep

that is?" —Bob Read
MSN reports that a serious leak in a pump for the pool at David Copperfield's 30th floor penthouse in Manhattan damages many of the apartments below it.
Eight-O'clock … A-M?
It is announced that Dan and Dave Buck will hold "Coffee Time with Dan and Dave" during the mornings at the Genii Convention. (Whatever. As Jasper used to say, some of us aren't done throwing up until noon.)
Home is Where the Wine is
After a long run at a local winery, David Minkin moves his popular Los Angeles show, "Magic and Wine: Transcending Reality," to The Magic Castle.
L.A. Mayor Follows Houdini's Lead
Doing what it takes to get in the news, L.A. Mayor Eric Garcetti declares March 29 "Houdini Day" in the city. It coincides with TCM's world premiere of the restored copy of Houdini's film "The Grim Game" at their film festival.
Worth Noting
The Genii Forum is lucky to have as regular contributors several of the top Houdini experts in (what was once referenced by an internet magazine) "The Houdini Industrial Complex": Kevin Connolly, John Cox, and Patrick Culliton. It was the latter who noted the following important bit of credit regarding "The Grim Game":
Dick Brookz and Dorothy Dietrich got Larry Weeks and TCM together. To do this, they had to put up with Larry for years and years—a miracle in itself. Some very good people tried to save that film, but, Larry would always queer the deal. Getting "The Grim Game" to the right people was a miracle. Best trick I've seen this century. All praise is due to Dick and Dorothy. Otherwise, this film could easily have been lost.
April
On the Cover of Genii: Asi Wind
And the Nominees Are …
The Academy of Magical Arts announces the nominees for the 2014 awards, which will be handed out on May 17:
LECTURER
Mike Caveney
Shoot Ogawa
Garrett Thomas
Steve Valentine
Gregory Wilson
CLOSE-UP
Woody Aragon
Bill Goodwin
Armando Lucero
Garrett Thomas
Richard Turner
PARLOUR
Chris Capehart
Handsome Jack (John Lovick)
Derek Hughes
Gregory Wilson
Rob Zabrecky
STAGE
David and Leeman
Pop Haydn
Tina Lenert
Shoot Ogawa
Arthur Trace
(And Matt Field gets a nomination for something—no one knows what—and he happily accepts.)
Zzyzx Road and a Crackpot
On a lonesome stretch of the desert highway between Greater Los Angeles and Las Vegas there is a road with a strange designation. Well, the story behind that name is just as odd. And as Diego Domingo noted, "These are YOUR brothers in magic!"
https://roadtrippers.com/stories/welcom ... .67528&z=5
What's First: The Good News or the Bad News?
It is announced that there will be "more magic" in "Now You See Me 2."
When I figure out what it is, I'll tell you the good news.
Half the Man He Was
Penn Jillette's recent weight loss—105 pounds—makes it into
People
magazine.
We Have an Accord
The Academy of Magical Arts, Inc. and Magic Castles, Inc. (Milt Larsen) announce that they have reached an agreement in principle that all parties can live with and helps solidify the future of both the AMA and its historic clubhouse.
"Excellence in Magic": Not an Oxymoron
Magicana, the non-profit arts organization run by David Ben and Julie Eng, announces—on behalf of the Slaight Family Foundation—the creation of the Allan Slaight Awards. These cash awards will "recognize outstanding achievement in the pursuit of the impossible." There are five awards:
– Lifetime Achievement $15,000
– Sharing Wonder $15,000
– Sharing Secrets $10,000
– International Rising $ 5,000
– Canadian Rising $ 5,000
The winners (for the 2014 calendar year) are scheduled to be announced in June.
Because When I Think Annemann, I Think Jeremy Renner
James Gray, the director of the film "The Immigrant," says in an interview that the character Orlando the Magician, played by Jeremy Renner, is loosely based on Ted Annemann. This choice is based solely on his discovery of the mentalist's "unsavory end."
Which One? It Has Five
The Magic Castle makes an appearance on the television program "Best Bars in America."
No Term Limits Needed
The Hull Magician's Circle honors (erm, excuse me, "honours") Eddie Dawes with a big gala celebration for his 50 years as president of the society.
May
On the Cover of Genii: Steve Spill
Got Milk (Can)?
Joseph Patire performs the Milk Can escape at the Midwest Magic History Weekend in Marshall, Michigan. Using the original Houdini/Hardeen Milk Can from the collection the American Museum of Magic, he is not allowed to fill the can with water for the one-time-only performance—but we all know he could have.
Poe, Lovecraft, and … Houdini?
Yes, there is a connection. HH acquired Edgar Allan Poe's writing desk and H.P. Lovecraft was envious.
http://lovecraftzine.com/2015/05/05/let ... poes-desk/
Teller Does Wall Street (the Journal that is)
Teller write about magical apps in the
WSJ
(subscription required):
http://www.wsj.com/articles/magician-te ... essentials
I'll Take "Kicking Ass and Taking Names" for a Thousand, Alex
Penn Jillette appears on an episode of "Celebrity Jeopardy" and wins the day and $50,000 for his charity.
And the Winner-Winner-Chicken-Dinner is …
The Academy of Magical Arts Award Show is a huge success with Max Maven at the helm and Steve Valentine hosting. The award and Fellowship winners were:
Lecturer: Steve Valentine
Close-Up: Richard Turner
Parlour: Rob Zabrecky
Stage: Pop Haydn
A Junior Award of Merit was awarded to Sean Self.
The Junior Achievement Award went to Mark A. Gibson.
The Trustees awarded Awards of Merit to Randy Pitchford and Alan Watson.
The Trustees bestowed the following Fellowships:
Creative: Mark Setteducati
Performing: John Carney
Literary and Media: Dan and Dave Buck
Lifetime Achievement: Walter "Zaney" Blaney
Special: Avner "The Eccentric" Eisenberg
Masters: Silvan
And the 2014 Magician of the Year is Michael Carbonaro.
It Hits the Fan … with a Bullet
Some people can't get enough and some have just plain had enough of Uri Geller—but they still keep talking about him, good and bad (which is
precisely
what he preaches to other performers, not unlike Harry Houdini). A post on an article about the "psychic" magician garners 171 responses and 10,346 views in just over two weeks' time.
A Larsen, a "Hat," and a Mamet
Liberty Larsen and Harry "The Hat" Anderson open in the David Mamet play "Oleanna."
Magicana Has Balls (and Cups)
David Ben and Julie Eng's "Magicana" organization posts a wonderful section on the "Oldest Trick in the Book," The Cups and Balls:
http://www.magicana.com/cups
Wall Street Loves Them Some Magic Dragon
Piff the Magic Dragon—who is currently excelling on "AGT"—appears in
The Wall Street Journal
online edition:
http://blogs.wsj.com/speakeasy/2015/05/ ... nt-judges/
June
On the Cover of Genii: Stan Allen
Whaaaaat?
Yes, that is Stan Allen on the cover of
Genii
. Any questions?
Never Follow the Animal Act
Magician Jamie Raven makes it into the finals of "Britain's Got Talent," lost to a dog act, and then had part of his act exposed on the internet. Ouch.
Derek Hughes, "America's Got Talent," Plumber's Crack, and is THIS Your Card?
Derek Hughes appears on "AGT" and drops his pants to reveal a selected card.
No Sh … Kidding?
According to the AP and
The New York Times
, a New York man is complaining about being scammed out of nearly $1 by a fortune teller.
For Whom is this Economy Roaring? (The SAM is clearly not in the "1%")
The SAM announces that its magazine,
M-U-M
, will be reduced to ten issues per year. Two issues per year will be "double issues" to make up for the lost content.
Don't Shoot Me: I'm Just the Piano Player
The trailer for Lance Burton's movie "Billy Topit Master Magician" is released.
("Who let the dogs out … woof, woof, woof.")
https://www.youtube.com/watch?v=jrtmoRg ... e=youtu.be
Houdini and the Kaiser (not the roll)
John Cox posts an amazing photo of Houdini with pre-WWI German military aviators. See the photo and the story on John's excellent "Wild about Houdini" site:
http://www.wildabouthoudini.com/2015/06 ... l?spref=fb
"2" Each His Own
Not everyone was enamored by the movie "Now You See Me": except for the people that count. As such, the "teaser" (not a trailer) is released for its sequel, due in the summer of 2016.
Heard of the television program "Friends"? Now we have "Frenemies"
A television program with Harry Houdini and Arthur Conan Doyle at its center will air in 2016. "Houdini & Doyle" (I like my "title" better) will be a buddy-investigator show with the two lead characters—played by Michael Weston (HH) and Stephen Mangan (ACD)—teaming up to "investigate unsolved and inexplicable crimes with a supernatural slant."
Here He Comes to Save the Day
Criss Angel rescues escape artist Spencer Horsman during an escape gone wrong while in rehearsal.
Houdini, Houdini, Houdini
Even "American Pickers" (for the second time that I know of) cannot get enough of Harry Houdini. Some of his (supposed) property is featured on an episode of the "reality" television program.
July
On the Cover of Genii: Tomas Blomberg
The First Allan Slaight Award Winners Announced
Magicana announces the winners for first annual Allan Slaight Awards (for the year 2014). These awards feature impressive cash prizes supported by the Slaight Family. And the winners were:
Lifetime Achievement Award ($15,000)
Johnny Thompson
Sharing Wonder Award ($15,000)
Penn & Teller
Sharing Secrets Award ($10,000)
Mike Caveney
International Rising Star ($5,000)
Henry Vargas
Canadian Rising Star ($5,000)
Mahdi Gilbert
Just in Time for the Other Convention
Richard Kaufman announces the release of a reprint of Stephen Hobbs' remarkable close-up magic periodical
Labyrinth
in book form.
The "Best"?
What is being hyped as "The Best FISM Ever" starts in the coastal resort town of Rimini, Italy.
Blonde Joke?
Former Playboy Bunny Holly Madison slams Criss Angel—with whom she had a highly publicized romantic relationship—in her "candid" memoir,
Down the Rabbit Hole
.
More Masters
A new season of "Masters of Illusion" television program premieres on the CW Network.
F-U
A brand new American season of "Penn & Teller: Fool Us" premieres on the CW Network. And it is
really
good. (It doesn't hurt that Mike Close and Johnny Thompson are heavily involved behind the scenes.)
Nothing New
The 2015 FISM is not without its issues and controversies—and is treated by many as if
that
has never happened before.
If You Missed it the First Time
The PBS television program "Antiques Roadshow" reruns a 15-year-old episode that features a collection of magic. The rerun does feature up to date prices for the sake of comparison. It is the first segment:
http://video.pbs.org/video/2365523667/
Because When I Think Tennis, I Think "David Copperfield"
David Copperfield appears in the fictionalized documentary, "7 Days in Hell." The Jake Szymanski film, which features many SNL alums and appears on HBO, is about a rivalry in professional tennis.
Because When I Think "Pluto," I Think "David Blaine"
David Blaine makes an appearance at the Johns Hopkins Applied Physics Lab for the incredible flyby of the dwarf planet Pluto by NASA's New Horizons spacecraft.
He Must Be Handsome to Someone
Genii
contributor John "Handsome Jack" Lovick fools the socks off Penn & Teller on their television program.
A Fine Feathered Mess
The avian flu epidemic in the Midwest prevents a young magician from using his doves for a performance at a state fair:
http://www.usatoday.com/story/news/nati ... /30818363/
Oooon Brooooadwaaaaay …
(Yeah, no, I cannot even sing in print. But …) Penn & Teller open a six-week run at the Marquis Theater on Broadway.
August
On the Cover of Genii: Andi Gladwin
Magic Posters and Tattoos Alike: Okay, Sure, I'll Bite
Boing Boing contributor Michael Borys compares the need to collect vintage magic posters to collecting tattoos:
http://boingboing.net/2015/08/04/the-pr ... ign=buffer
Houdini (yes, him again) "Roasted"
The title says it all. Read the report by John Cox:
http://www.wildabouthoudini.com/2015/08 ... udini.html
That Other Convention
MAGIC Live kicks off in Las Vegas.
What Was She Thinking?
The lovely (former) Anna Kloots marries Joshua Jay.
Where Does it Go, Especially When You're Having Fun?
Steve Bryant's
Little Egypt Gazette,
one of the internet's first magic "e-magazines" started publication 20 years ago. Though quite different today from its first two years when it was a magazine with as many as 40 pages—and yours truly being one of those who printed out the whole shebang—
Little Egypt Magic
remains one of the go-to sites for monthly helpings of magic news and reviews.
September
On the Cover of Genii: FISM Italy
Something's Fishy with Penn & Teller
P&T appear in an episode of Animal Planet's "Tanked" television program. The duo has a team of fish tank experts build a magic and P&T-themed tank in the "Monkey Room" backstage (their green room).
Two Magicians, a Mentalist, and a Geek Walk Into Bar … And the Vent Act Comes Out
(There has to be a better punchline there somewhere.)
Two magicians, a mentalist, and a sideshow performer make the finals of NBC's "America's Got Talent" television program: Derek Hughes, Piff the Magic Dragon, Oz Perlman, and Stevie Starr (the "Professional Regurgitator")—your humble scribe's favorite act of the series (sorry magic boys). None of them win. It was a controversial ventriloquist instead.
Teller Speaks (To Vanity Fair)
A fine interview with Mr. Teller appears in
Vanity Fair.
Please to enjoy:
http://www.vanityfair.com/culture/2015/ ... al_twitter
You Never Know What You Can Dig Up Around Here
The locations and pictures of magicians' graves:
http://www.findagrave.com/php/famous.ph ... a=magician
It's Not Personal, It's Business
But when it's
your
business, it
is
personal. Danny Cole becomes the victim—for the second time this year—of another magician using one of his illusions without permission for their self-promotion.
Going Boing Boing
Chief Genii Richard Kaufman begins writing (non-magic) articles for Boing Boing. One guess what his first subject was.
http://boingboing.net/2015/09/30/15-thi ... kyo-d.html
Remember When It was "Never" Going to Happen Again?
The Genii Convention kicks off in Orlando, Florida.
October
On the Cover of Genii: Shin Lim
Ouch … OUCH!
Max Maven calls his-own-self an ambulance. Turns out he needs an emergency appendectomy. There is no truth to the rumor he was just trying to get out of performing at the Genii Convention.
The NFL's Has a Magician Named Jennings
Pro football star and magic enthusiast Rashad Jennings performs card tricks on ESPN:
http://espn.go.com/video/clip?id=13873456
First a Hollywood Star and Now a Hollywood Parade
It is announced that Penn & Teller have been named the Grand Marshalls of the annual (since 1928) Hollywood Christmas Parade.
Jim Steinmeyer: Cruise Ship Magician(?)
Not exactly. Mr. Steinmeyer is the brains behind the magic in Carnival Cruise Line's new extravaganza,
Magic to Do.
Not Grim News for Houdini Fans
Turner Classic Movies cable network airs Houdini's film "The Grim Game." Thought by some to be lost, it's the first time the general public has seen the silent flicker since it was released in 1919.
It's About Damn Time … (So let's see what we can complain about now)
After an admittedly too long a period, the Miracle Factory's
Impromptu
by Martin Gardner is printed and begins shipping. Some people remain unhappy, others are thrilled. (Todd Karr is relieved.)
BOO-dini
The Official Houdini Séance is held in San Francisco. Cleverly, tickets are sold via Kickstarter. Over $15,000 is raised for the event.
November
On the Cover of Genii: Martin Gardner (by Steranko)
26 Years and Counting
It started in 1989 and is still going strong. The Fourteenth Los Angeles Conference on Magic History kicks off at its ancestral home, the Garland Hotel in North Hollywood.
[Sigh] A Sign of the Times, and Its All Too Rapid Flight
After more than 37 years of doing business, Guy Camirand's Camirand Academy of Magic ceases retail sales.
The Illusionists Headline in … Court Documents?
Illusionist Brett Daniels sues the producers of the hit stage show "The Illusionists" (and its several iterations). He is seeking money damages for breach of contract as well as for being stranded in a South American city.
"Sue Me, Sue You Blues" (George Harrison)
And the producers of "The Illusionists" petition a federal court to force Brett Daniels into arbitration (per the contract).
It's Not Jeopardy, But … Oh Hell, It is Not Jeopardy
The television gameshow "Family Feud" features a magic "survey":
"If a stripper was also a magician, what would she pull out of her G-string?"
To "top" answers are (deep breath):
1. Rabbit
2. Money
3. A woman's "joy toy"
4. Flower
5. Handkerchief
6. Magic wand
7. Food / Eggplant
"Eggplant"? Really?
Don't Hold Your Breath …
Visual Entertainment, Inc. announces that television fans should "watch" for the release of a DVD set featuring "The Magician" television program starring Bill Bixby.
This Is Jeopardy
"We're Magic" is a category on the November 25 episode of the hit television gameshow "Jeopardy." Penn Jillette delivered a Video Clue and Lance Burton's image was included in his $2,000(!) clue. Correct responses are:
$400: David Copperfield (correctly answered)
$800: Criss Angel (correctly answered)
$1200 (video clue): James Randi (one incorrect answer, a triple stumper)
$1600: Doug Henning (no ring-ins, a triple stumper)
$2000 (with image in clue): Lance Burton (correctly answered)
Teller: The WSJ's Go-To Guy
A
Wall Street Journal
article on "magic apps" features thoughts by Teller, who penned an article on the subject for the publication.
Just Because
Please to enjoy Yann Frisch
December
On the Cover of Genii: Marvin Berglas
One Man's Opinion
Wayne Kawamoto (About Magic) took it upon himself to list the "Top 10 Magicians of 2015":
10 – Shin Lim
9 – Justin Flom
8 – Justin Willman
7 – Mat Franco
6 – Jeff McBride
5 – Dynamo
4 – Mac King
3 – Franz Harary
2 – Penn & Teller
1 – David Copperfield
Another Man's Opinion
Michael Carbonaro belongs on that list.
Got 68 Minutes to Kill?
Tod Browning directed "Miracles for Sale," a 1939 movie based on Clayton Rawson's
Death from a Top Hat.
Robert Young plays Michael Morgan (not Merlini) in this romp. You won't see much magic as we know it, and Young mangles Robert-Houdin's name, but it's a hoot. Please to enjoy:
https://www.youtube.com/watch?v=Kx3NyYgpqrs
Got Another 64 Minutes?
"The Man who Wouldn't Die" (1942) is based on Rawson's
No Coffin for the Corpse.
Directed by Herbert Leeds and starring Lloyd Nolan.
https://www.youtube.com/watch?v=tVmNo1nIyIM
Based on a True Story … HAHAHAHAHAHAHAHA!!!
Originally optioned in 2003 by Tom Cruise, Jasper Maskelyne's story as recounted in
The War Magician
by David Fisher never made it to the screen with Cruise at the helm. The project has been picked up by another group that has Benedict Cumberbatch playing Maskelyne. It's not at all unusual for Hollywood to butcher a true story for "dramatic" purposes, but in this case it's not known if the Hollywood crowd knows that they are
starting
with a book that is largely a work of fiction.
Out of the Court, On to the Tube
"The Illusionists" appears on NBC network television. If you missed it, check for internet options: it's worth the search and the time.
Because it makes Me Smile … And You Will TooChristmas Tirade
Atheists were wondering why atheists were the Grand Marshals of a Christmas parade.
Christians were wondering why atheists were the Grand Marshals of a Christmas parade.
See how easy it is to find common ground?
But that's not the issue: The Hollywood Christmas Parade has always been about the
commercial
side of the holiday. In fact, it was started in 1928 as a way to boost sales for local merchants. Now it's about pimping TV shows, regardless of the network—but of course the one covering has a leg up. This parade far more famous for Santa Claus than it is for Jesus Christ. It's only truly redeeming value is that it does sponsor the U.S. Marine Corps' Toys for Tots program.
This year the theme was "The Magic of Christmas." Penn & Teller were the Grand Marshals and several magicians featured on "Masters of Illusion" performed.
Held in late November, the CW Network aired it in December during a two-hour broadcast. Perhaps not coincidentally, "Penn & Teller: Fool Us" and "Masters of Illusion" have been renewed for the 2016 television season. Perhaps not coincidentally, both television programs air on the CW Network.
The television critic for the
Orange County Register
newspaper, Michael Hewitt, listed the program on his "skip it" list for the night's viewing.
The magic performances, which were mostly quite brief, seemed to get in the way of the countless musical acts that also appeared; the musical acts that Hewitt labeled "dull." He didn't mention the magic at all. He must have blinked. Michael Grandinetti did half a Broom Suspension (the girl was already horizontal when the show "cut" to him). He did a second bit; the name of a selected card was written on his forearm. Woof.
Naathan Phan enjoyed three segments and
maybe
had a total of one minute in air time. He did a smart phone to balloon, sponge balls from mouth, and a very quick Snow Storm in China.
Illusionist Michael Turco had the longest segment (or maybe it just felt that way). It appeared that he had almost every box he owned on that small stage and he used them all. He produced five girls—four from one box and one from a fire cage. Then he performed John Taylor's suspended transposition with one of the girls. Afterward, she (or another girl?) got into another box, disappeared and reappeared in a Blammo Box. Thankfully there wasn't enough room on the stage for the Spiker and Bo Staff illusions.
Titou produced a live goldfish from his iPad and later poured some milk into an empty bag, heated it, and produced some cookies for the talking heads he was performing for (this trick was the last piece of magic performed on this "magic themed" broadcast).
Jonathan Pendragon performed his Metamorphosis with Diana Wolfe, who did a complete costume change. It's not as fast as it used to be, but it's still a fine performance (though I don't think they used his music, so that didn't work). His turn should have closed the magic segments. (I suspect that Magic Producer Gay Blackstone had little to no call in that order.)
For the record, the Beach Boys' performance was far more painful to watch than any of the magic. The best part? The Marine Corps Band. Those guys and gals can bring it; even when they're just marching.
Try as We Might …
We cannot overlook tragic events. Troy Spiers, the eleven year old grandson of Alan Watson (the purveyor of
Magic New Zealand E-zine
) died in a home accident.
In a fiery explosion at MagicNevin, a Lincoln, UK magic shop, an unidentified seventeen year old lost his life.
The Genii Forum offers its condolences to the families of these youngsters.
The Bammo Institutionalized Magic Collection Book(?)
A request by Bob Farmer for magic collections held by colleges returns a bevy of links to some cool stuff.
viewtopic.php?f=21&t=47570
No Matter What, He Overpaid
Criss Angel is being sued by an ex-fiancé (whose "damages," apparently, include giving up her job as a hostess) for $3 million—the cash equivalent of the engagement ring she sported for the paparazzi. In the court of Social Media, the magician tweets, "I spent over $500k on Sandra's Boob&Nose JOB-New BMW-dads Bail-moms Mortgage-Wardrobe-Cabo Vacations-Cash&On&On-Now U want More? #GoldDigger."
The Man is No Myth
There was a time, not that long ago, that some believed Homer Liwag was the figment of another man's imagination. Of course, Homer is quite real—as real as his well-worn and talented hands. An interview, including an introduction from David Copperfield, appears in
Polly Magazine
:
http://www.pollymagazine.com/art/homer-liwag/
Coffee Pots and Urinal Remnants
A shoe, a bottle, a coffee pot, and a piece of a broken urinal where all that was found in a spot where—supposedly—Penn & Teller buried a time capsule outside a former Chicago restaurant in 1989. Reportedly, Penn Jillette said that, while recalling Teller and he signed their names into the wet cement that marked the site, he knows nothing about a time capsule.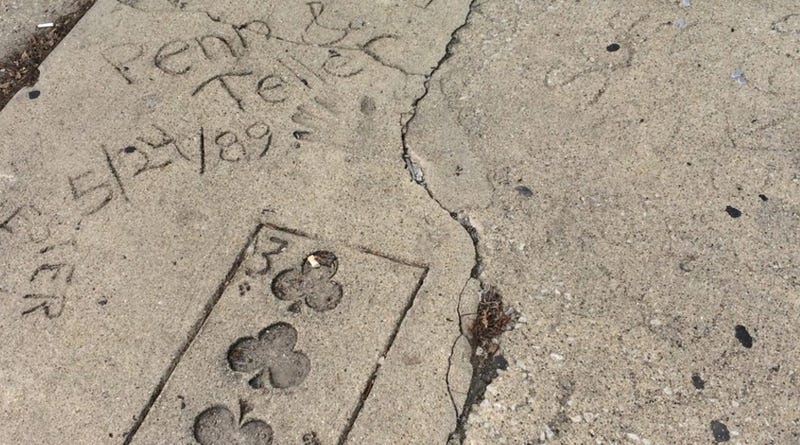 Including the Posts About Richard Burton and Jenny Agutter…
The Erdnase thread reaches 113 pages, 4,500 replies (to the original post), and over 1,540,800 views.
Say Cheese
At the Fourteenth Los Angeles Conference on Magic History, an unknown (until then) Mathew Brady portrait of Alexander Herrmann was unveiled. The print is quite remarkable in regard to its subject, its source, and its quality of resolution (given that it was made in the 19th century), as well as its so-called controversy (a few believe that the photo is a forgery: I am not one of them). Prints of that photograph is now available in a limited edition of 100 at $1,500 each.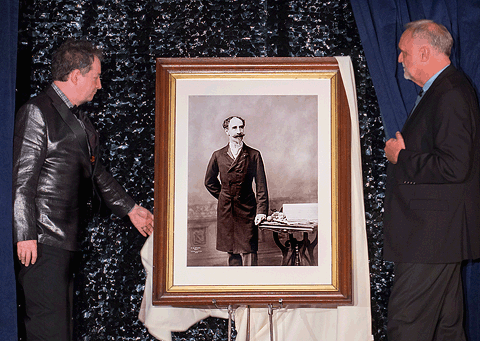 As the World Turns Towards the Edge of Night While All My Children are the Young and the Restless in General Hospital with the Doctors
… or
"What is drama but life with the dull bits cut out?" —Alfred Hitchcock
… or
"Boys are so much drama." —Gabrielle Union
Have a listen to the podcast interview of Gregory Wilson by Scott Wells:
http://themagicwordpodcast.com/scottwel ... ory-wilson
And then the response from Apollo Robbins, also interviewed by Scott Wells:
http://themagicwordpodcast.com/scottwel ... lo-robbins
PS: The introduction to this section is light-hearted, but this subject is quite serious and I do not mean to downplay the gravity of it. Several significant accusations are leveled in both interviews and it appears to be far from over. Obviously I questioned myself in making light of this in the lead, but decided to keep it so.
PPS: It is worth noting that both men talk about other aspects of their magic and careers and it's also interesting.
Sis Boom Bah …
Antenna TV, a Tribune Media Company cable network, will begin airing full episodes of The Johnny Carson Show (formally known as the Tonight Show starring Johnny Carson) beginning tonight, January 1, 2016.
To Absent Friends
Here is the unavoidable list of those we lost this year. Please take a moment to remember them and/or think of their families and friends who will never forget them (and please forgive me if I missed someone):
Marge Albo (80)
Jim Alfredson (77)
Jerry Blount (87)
David Bourne (75)
Cashetta (Scott Weston) (44)
Claude Crowe (77)
Father Cyprian Murray (76)
Peter D'Arcy (88)
Tim Deremer (65)
Don Desfor (87)
Dean Dill (67)
Tony Econ (74)
Don England (67)
Lee Grabel (96)
Mike Hilburger (75)
Maki Kitami (74)
Stan Kramien (89)
Rene Lavand (86)
Ron London (73)
Ib Melchior (97)
Karel Ocelik (Duo Absolon) (74)
Damon Reinhold (77)
Barrie Richardson (81)
John Scanlan (71)
Ed Solomon (82)
Troy Spiers (11)
Liz Tucker
Dan Waldron (90)
Carl Williams (93)
* * * *
So here we are, 2016. This assemblage would be impossible without all of our members. (Now if we could just get all of you to subscribe to the magazine that supports this site!) Even if you just read the posts, we sincerely thank you all for your contributions and participation.
Wishing you good health, happiness, and peace in 2016.
Dustin