Houdini-Opoly.
Put together by the world famous, not for profit, Houdini Museum in Scranton, Pa., run by world magicians Dorothy Dietrich and Dick Brookz. Well established, and The Only Building in the World Dedicated to Houdini. They have been at their present location for 29 years. Before that they were on the upper East side of Manhattan for 15 years.
https://www.kickstarter.com/projects/1726279887/houdini-opoly-fun-exciting-legend-and-magic-hero-b/
and http://HoudiniOpoly.com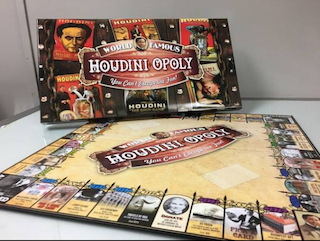 Houdini-Opoly
is an exciting hero board game for 2-9 players built around the life of one of the most exciting personalities in history. As you go around the board you'll learn about the life of this great icon of the entertainment field, in a fun way. The real estate properties on the board are the actual key places in Houdini's life. Each of the property deed cards and play money will have additional fun historic information about Houdini's life. Each time you play you will get different deeds and land on different spots so both the enjoyment, and your knowledge about Houdini will increase. It is fun, educational and a parody all rolled into one. You will be able to get you names on the deed cards, chance cards, the box, and front or back of the play money. Your name will be part of Houdini history forever!
The only sure way to get a game is to order it through this program. As with all items Houdini, over time, it will become collectible and rise in value. People who have invested in Houdini over the last 70 years or so have done better than the stock market. All games will get a signed and numbered card as to the authenticity of the games.
You Can't Escape The Fun!